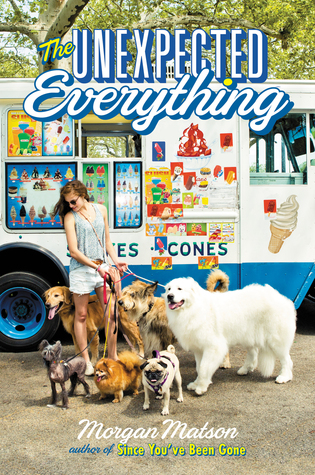 Started:
June 2, 2018 |
Finished:
June 12, 2018
The Unexpected Everything
by Morgan Matson
Published by Simon & Schuster on May 3rd, 2016
Genre: YA, Contemporary
Pages: 518
Book Edition: Ebook, Hardcover
No. of times read: 1
Synopsis:
Andie had it all planned out. When you are a politician's daughter who's pretty much raised yourself, you learn everything can be planned or spun, or both. Especially your future. Important internship? Check. Amazing friends? Check. Guys? Check (as long as we're talking no more than three weeks).





But that was before the scandal. Before having to be in the same house with her dad. Before walking an insane number of dogs. That was before Clark and those few months that might change her whole life. Because here's the thing—if everything's planned out, you can never find the unexpected. And where's the fun in that?
Rating: 5/5
My Review:
THIS BOOK WAS AMAZING! Morgan Matson writes the perfect summer reads. Every book of hers I just adore! I think I can officially go on record and say that she is my favourite contemporary writer. I just love her characters, and the stories are always so good and heartfelt. Her writing style is just so flawless. I could go on and on, she's amazing!!
I loved everything about this book. I loved the main character and seeing her learn that sometimes it's best to not have everything planned out all the time. Her friends were amazing, I loved their dynamic. Without getting into the details as I want to keep this spoiler free, but the ending had me a bit sad for what happens with them, but I think with it being left open-ended, you can believe that everything eventually gets mended. Her relationship with her Dad and seeing how that developed throughout the book was so great. I really enjoyed that part of the book. As someone who is by definition a Daddy's Little Girl, stories with good father/daughter dynamics are so heartwarming to me. The romance was great!! I really liked Clark, he was so cute! I also thought it was so interesting that he was a writer. I loved that part and that we got little samples of his books throughout this book, that was cool. Also she's a dog walker!! So lots of cute parts with dogs, I mean that was just the cherry on top!
Also something I love about Morgan Matson's books is she'll have a very brief appearance of characters from one of her other books in her new books. It's so subtle that if you didn't read her other books then you wouldn't find it odd or anything. But if you have read them then it's a little part that connects you to her other books so it made me smile. This one had characters from Second Chance Summer in it.
This was such a good book!! I regret that I waited until now to read it, but the size use to intimidate me. But now that I've read it, it's worth all 500+ pages for sure!
Do you love Morgan Matson's books as much as I do? What's your favourite from her?